Posts for: April, 2015
By The Dental Spa
April 24, 2015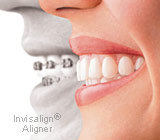 If you are insecure about your misaligned crooked teeth, then you may be a perfect candidate for clear orthodontic aligners. This system is an alternative to traditional braces that uses a sequence of individual, clear, removable "trays" that fit over your teeth to gradually straighten them. Each tray is completely clear and covers all the teeth thus making it virtually invisible. Each tray is designed to slightly move the teeth until the teeth are in proper alignment. Typically, each tray must be worn for 20 hours a day for 2 weeks before progressing to the next tray in the sequence with each tray moving you closer towards your goal — perfectly aligned teeth.
However, clear orthodontic aligners are not for everyone. If you are interested and wonder if they can benefit you, contact us so that we can schedule an appointment for a thorough evaluation to assess your specific situation. Below, we have briefly outlined some situations when they will and will not work.
Clear orthodontic aligners work if...
You have mild to moderate crowding or spacing issues between teeth
Back teeth fit together properly
They may not be the right choice if...
You have moderate to severe crowding or spacing issues between teeth
When your bite does not align properly (for example, if you have a large over-, under-, or cross-bite)
When your teeth are "rotated" way out of position; such misaligned teeth will require special or complex techniques to rotate them back into position, or to pull them down into place or to fill the space left after pulling a tooth to resolve excessive crowding of teeth
Want to learn more?
Contact us today to discuss your questions or to schedule an appointment. You can also learn more about this topic by reading the article "Clear Orthodontic Aligners."
By The Dental Spa
April 09, 2015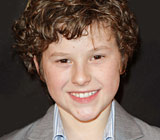 Nolan Gould of the hit TV show Modern Family has an uncommon gift for comedy, but he also has a very common orthodontic problem: too many teeth for the size of his mouth, which often results in "crowding."
"My teeth used to be pretty messed up," Nolan recently told Dear Doctor magazine in an exclusive interview. "I had two extra teeth when I was born. They hadn't come out (erupted) yet. And all the other teeth that were already there were starting to point backwards because it was getting so crowded in my mouth. They had to remove those two (extra) teeth," he said.
Although being born with extra teeth is somewhat unusual, needing to have teeth extracted for orthodontic reasons is not. In fact, orthodontic treatment often involves removing teeth to relieve crowding. It makes sense when you think about it: When there are too many teeth for the size of the dental arches (upper and/or lower jaws) or the teeth are larger in size than the dental arch can accommodate, there may not be enough space to align them properly. The necessary space can be created by removing teeth.
The teeth most frequently extracted for orthodontic reasons are the first bicuspid teeth. These are the ones right between the cuspid, or eyeteeth (under the eyes) and the molars (biggest back teeth). Once there is enough space, the orthodontist can choose from a variety of orthodontic appliances to align the teeth, depending on the specific needs of the individual.
In Nolan's case, it was the extra two teeth he was born with that were removed. Afterwards, the young actor's orthodontist was able to shift Nolan's remaining teeth into proper alignment using orthodontic appliances called Crozats. Made of metal wires, Crozats go around the back teeth and behind the front teeth, making them virtually invisible.
"You can remove them, which is really good for acting, especially because you can't see them," Nolan explained. "I can wear them 24/7 and nobody will ever notice."
Nolan's orthodontic appliances may not be noticeable, but his fabulous smile certainly is!
If you would like to learn more about improving tooth alignment with orthodontics, please contact us today to schedule an appointment for a consultation. If you would like to read Dear Doctor's entire interview with Nolan Gould, please see "Nolan Gould." Dear Doctor also has more on "Tooth Removal for Orthodontic Reasons."