Posts for: March, 2018
By The Dental Spa
March 28, 2018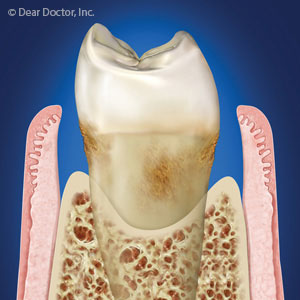 All treatments for periodontal (gum) disease focus on one goal — to remove any bacterial plaque and calculus (hardened plaque deposits) that are at the heart of the infection. Plaque is a thin surface film of food particles and bacteria that cause gum disease.
Plaque builds up on tooth surfaces due to inadequate oral hygiene. And as the disease progresses brushing and flossing won't be enough — you'll need our services and specialized equipment to fully remove the plaque and calculus. The basic technique is called scaling in which we remove plaque and calculus manually from tooth surfaces above and just a few millimeters below the gum line.
As the disease develops, though, the slight natural gap between teeth and gums may begin to increase to form voids known as periodontal pockets. Filled with infection, these pockets can extend below the gum line onto the roots of the tooth. If the pocket extends more than 4 millimeters, basic scaling may not be able to remove all of the plaque and calculus.
Periodontists (dentists who specialize in the treatment and care of gum tissues) can perform a surgical method to access these deeper areas. Known as flap surgery, this procedure aims not only to reach and disinfect periodontal pockets and root surfaces, but also repair damaged gum tissue and create a better environment for future hygiene and treatment.
As the name implies, we create an opening in the gum tissue with one side remaining attached to the gum structure — much like the flap of a paper envelope. Through this opening we're able to reach areas to remove plaque and calculus, as well as install both bone grafts to regenerate lost bone and growth factors to stimulate tissue growth. Once finished, we stitch the flap back into place with sutures and, in many cases, place a moldable dressing to protect and hold the flap secure while the incision heals.
This relatively minor procedure can be performed with local anesthesia and requires only a few days of recuperation. The results, though, can provide long-term benefits — reduced infection, better bone and gum health, and a more conducive environment for future maintenance of health — that could save your teeth and your smile for many years to come.
If you would like more information on treatments for gum disease, please contact us or schedule an appointment for a consultation. You can also learn more about this topic by reading the Dear Doctor magazine article "Periodontal Flap Surgery."
By The Dental Spa
March 13, 2018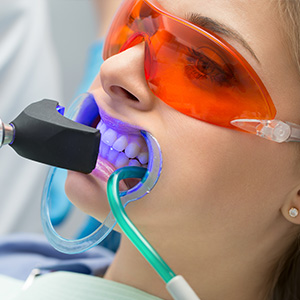 If you're ready to put the "pizzazz" back into your smile, your dentist may be able to help. It's possible your dull, dingy smile could be transformed with teeth whitening.
Teeth whitening or bleaching is a technique that applies a solution with a bleaching agent (usually up to 35% hydrogen peroxide in an office setting) to the teeth to whiten them. Although there are Do-It-Yourself home whitening kits you can use, there are a few good reasons why you should first consider a whitening procedure in a dental office setting.
To begin with, you should first have your teeth examined by a dentist to determine why they're discolored. Certain foods and beverages we consume or tobacco habits are the usual culprits causing stains on the enamel, the outermost tooth layer. These are the kinds of stains targeted by most whitening solutions.
But the interior of a tooth can also become discolored for reasons like trauma, past dental work or tetracycline use at an early age. If your staining is internal (intrinsic) rather than external (extrinsic) reducing that discoloration will require an invasive procedure only a dentist can perform—a home kit won't be able to do the job.
Another reason for having your teeth whitened by your dentist (even extrinsic staining) involves your time and the degree of brightness you'd like. Because dentists use stronger bleaching solutions (home kits usually use a weaker solution of 10% carbamide peroxide) it takes fewer sessions than home kits to achieve results—and they may last longer. In addition, dentists have more control over the level of brightness to match your expectations of a more subdued, natural look or a dazzling "Hollywood" smile.
A dentist can also help you navigate special circumstances like matching and managing natural teeth whiteness with dental restorations (which don't bleach) or special whitening situations like a single discolored tooth.
Even if you eventually decide to go the home kit route, consulting with a dentist first can still prove helpful. You'll get expert advice on products, tips on how to apply them and how to prolong the whitening effect. Whichever way you go, home kit or dentist, you can gain a brighter, more confident smile with teeth whitening.
If you would like more information on teeth whitening, please contact us or schedule an appointment for a consultation. You can also learn more about this topic by reading the Dear Doctor magazine article "Important Teeth Whitening Questions…Answered!"